ISSUE:
You've downloaded and installed the latest version of Centurion software and it has been thirty (30) or more days from the date of the initial install.

When attempting to continue to use the software, a Centurion License dialog box prompts you to Set License (enter a valid license code). Note: If you select either the 'Cancel' or 'X' to close the dialog box, the software closes by default.

The error message or prompt indicates that the Centurion software program trial period has expired, and that is necessary to secure and enter a valid license code in order to continue using the software.

This requires registering with Diamond Traffic Products (DTP).

Also note that where the software may have been removed from one computer or workstation, and the reinstalled on another, the previous license becomes 'invalid' and will not allow the new install to advance normally. A new License would need to be generated and set to operate fully.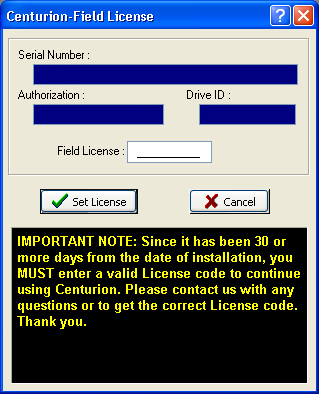 SOLUTION:
To register your copy of software and receive your License Code you must provide a DTP Support person with the Serial Number, Authorization and Drive ID numbers that appear in the Centurion - CC / Field / Gold / Parks License dialog box (see example to the right).

This information may also be found by navigating to:
C:\Documents and Settings\All Users\Application Data\Diamond\Centurion *\YOURREG.TXT

* = Centurion CC, Centurion Field, Centurion Gold or Centurion Parks Directory
Contact DPT Support to Request a License, you may either:
Email a copy of the YOURREG.TXT to Support@DiamondTraffic.com (include in your Subject Line: Centurion Software Registration), or
Contact us by phone at (541) 782-3903 Monday - Friday 8:00 AM - 4:00 PM PST
Registration and License inquiries are generally handled within two (2) business day upon receiving your request.