How to Unlicense Centurion Software - Getting a Centurion Unlicense Code
ISSUE:
You need to unlicense a licensed copy of Centurion software from one user to another, or from one computer workstation / laptop to another.
SOLUTION:
Open your licensed copy of Centurion software
From the Main Menu select Help
From the Help drop down select Unlicense Software...

You will receive a dialog warning box similar to below: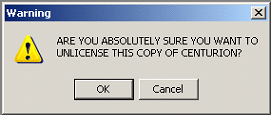 Select OK where you should get a confirmation box similar to below: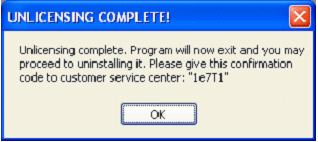 Note the confirmation number provided in this box, retain this unique number and contact our Customer Service team with this number, when you are ready to reinstall another copy of the Centurion software on your new computer workstation and / or laptop.
New registrations and license codes cannot be generated without the unlicensing confirmation number.
Contact DPT Support to Request a License, you may either:
Email a copy of the YOURREG.TXT to Support@DiamondTraffic.com (include in your Subject Line: Centurion Software Registration), or
Contact us by phone at (541) 782-3903 Monday - Friday 8:00 AM - 4:00 PM PST

Registration and License inquiries are generally handled within two (2) business day upon receiving your request.