Optimal CONFIG.SYS Settings for TrafMan
ICS#110101-1: Optimal CONFIG.SYS Settings for TrafMan Software

Virtually all PC's in use today operate using the Windows 95, 98, NT or later operating systems (OS). Windows XP uses a different approach to handling memory configurations for MS-DOS programs please refer to our KB document "Maximizing Memory For TrafMan Under Windows XP" for those instructions. Other than XP most still support MS-DOS programs, but may require system configuration changes to insure that the programs operate with the maximum amount of resources.

Note: You may have other programs or computer configuration issues which will conflict with the recommendations below. Please use caution, and consult and experienced IT professional if you unsure of the effect of implementing the suggested.

To check and correct potiential problem, follow the steps below:

1. Click on the Start button on your Desktop, then select Run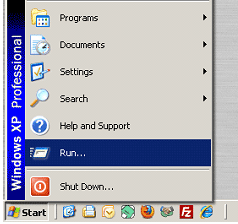 2. Type in the program name SYSEDIT and click OK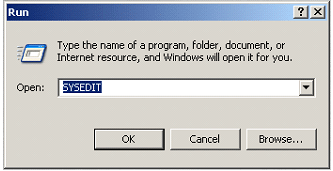 3. A text file editor will appear with several windows. Select the window that says C:\CONFIG.SYS





There may be several lines of text in this File. DO NOT change or eliminate any line other than those that start with the identical word as listed below. Please read and review each comment lines carefully before making any changes. It is also a good idea to create a backup copy of these settings, prior to making any change by copying and pasting them into a .TXT file that may be viewed or printed for reference.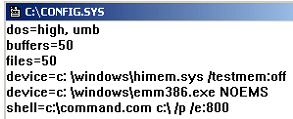 Comments:

Upper/Lower case characters do not matter
Buffers and Files should be equal to 50 or higher
The "/e:800" on the shell line should be equal to 800 or higher

4.  After making all changes, exit the program and click Yes to save current changes.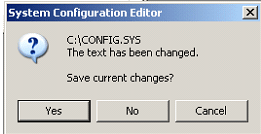 5.  Reboot you computer, and Run TrafMan.
6.  From the main menu, press This will provide you a display of the current memory conditions for the program. A "Free Memory" value of 125,000 or higher should be seen.
Related Articles
Attachments
No attachments were found.
Visitor Comments